After a lot of rumors, it was finally released, the mighty Google Drive..Yesterday, Google announced its new hype, that would be a great challenge for other services like box.net (2GB Free) & Dropbox (5GB Free but higher upgrade fees) . I should tell, the service is kinda fast, everything works just amazing especially the ability to add new file types, and programs to your drive, I could easily add a new balsamiq mockup on the fly. Imagine most of you document authoring tools that you have ever used on your desktop, and when Google Chrome app store was introduced, you just mapped them to the browser and then now you can access them everywhere through the new service, Drive!
I received my invitation yesterday, and since I have been checking what is the service is capable of doing, and how amazing everything go.
So, this post is about what you should really do after you receive you invitation, to make your life with Drive better.
Switch to Grid View


Google Drive Grid View


Google usually adds a variety of its applications' views, Compact, Cozy, or Comfortable, List or Grid, and Google Drive comes with List View as a default one, like the old Google Docs view, so you will really feel how cool it is to use the Grid View. You will then notice thumbnails of your documents, that will really help you determining which one you need and the content of each.


Google Drive Thumbnails

Import your old important documents for backup and future access anywhere


Google Drive Import Documents


Most file types are supported, I dun think there are any who aren't yet. You can upload single files, or single directories – Currently Only Chrome supports folder upload in the box, but firefox do it after you install a Java Applet to allow you to do so-. So, for backup sake, or for having all your files in one place for being accessed from anywhere for being viewed or manipulated.
Organize your documents into directories/folders


Google Drive, Create New Folder


You call me nerd, but I always love to organize stuff into folders, you can simple do this in Google Drive using the "New Folder" icon from the top bar, Type in your folder's name and you are done, and you will find it in the left panel where you can drag and drop it in any other folder for organization, or you can select you needed documents to add them to it.
Manage Applications


Google Drive Manage Apps


From the Gear icon on the top panel, choose "Manage Apps", where you can see you installed apps – Google Drive comes with Google Docs pre-installed – or install more apps. From Wireframing applications, to Video Editing ones, all can be accessed via chrome web app storeand simply added to your Drive with a simple click.


Google Drive Added Applications


Search for your most used applications and go and add them, it's a fun thing to have all you needed documents and being able to edit them in one place.
Check keyboard shortcuts


Google Drive Keyboard Shortcuts


Just like most Google Services, Just Press ? (Question Mark) and the keyboard shortcuts windows will pop up in a very telling way, you can get used to it, check your most needed actions and start working with them, they will totally save you time 😀
Install Drive Desktop&Mobile Application


Google Drive Supported Platforms

Google Drive is available for:
PC and Mac
iPhone and iPad (coming soon)
Android devices

And the biggest issue since the service is released, was not having Linux support planned, but today, I have found OMGUbuntu saying that there will be a linux support soon.

Do you have Google Apps for your corporation, go and Drive!
One of the things that makes Google great, is that they provide their amazing quality oriented services with amazing packages for people to use freely, and Drive has been integrated to Google Apps since the new service is released, so you can now sign to your Google Apps Domain Management Panel and you will find Drive and Docs there for you and your whole corporation to use 🙂
Send Google Your Feedback
Liked the service, or may be not :D, give them a minute from your time, and send them your feed back about their new service, and they really hear from us, and one of the most proofs of this the added linux support from yesterday to today, 😀
PCWorld has done a great comparison chart between the new service and other found services like Dropbox and Box.net, have a look: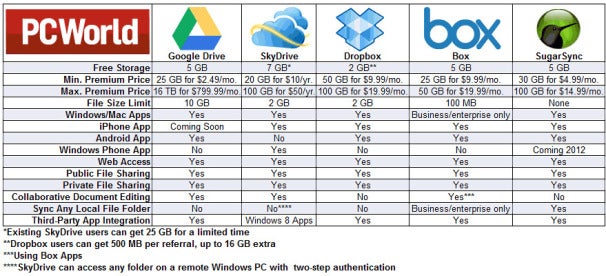 Thanks a lot for reading, keep checking for more tips and tricks about Google Drive!